IF IT'S HARD FOR US, IMAGINE FOR THEM!
In the Northeastern Hinterland thousands of people, at the moment, face hunger, thirst and the total lack of health structure in isolated villages.
WE NEED HELP BRINGING RESOURCES TO THE HINTERLAND
for needy families in the hinterland.
Hygiene kits and medicines
for the backcountry villages and support for local hospitals
IN ADDITION TO MAINTAINING EXISTING PROJECTS
More than 75,000 people depend on us!
FOLLOW THE ACTIONS THAT ARE BEING CARRIED OUT IN THE HINTERLAND
WITH THE HELP OF MANY FRIENDS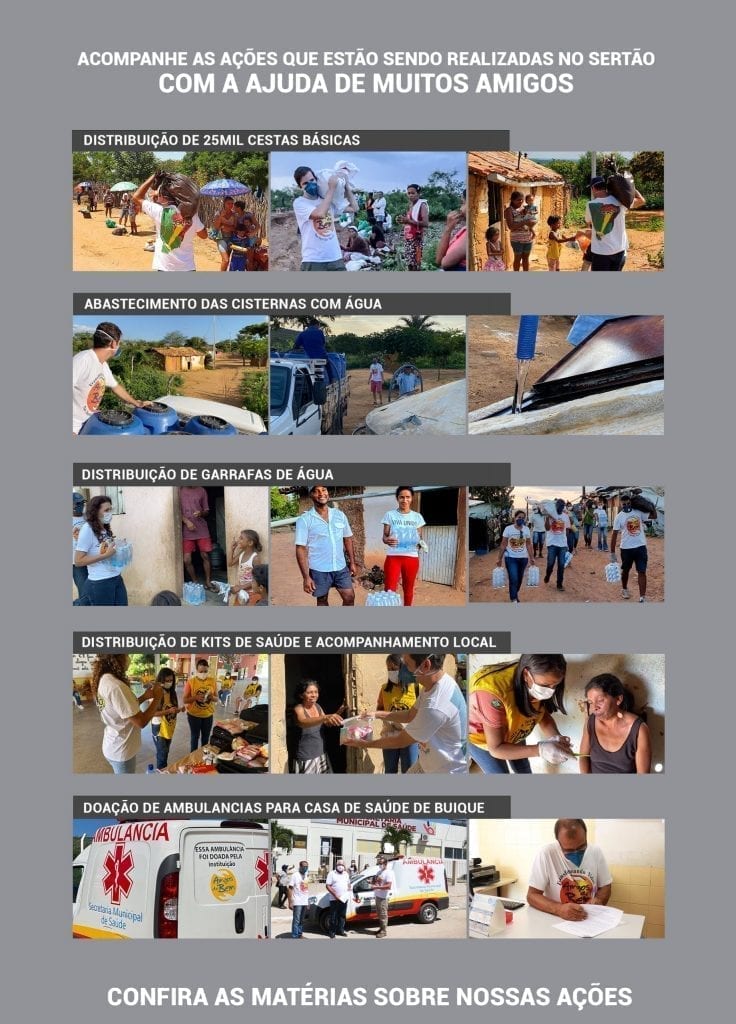 RESULTADO DA SOLIDARIEDADE
NEWSPAPER TODAY (REDE GLOBO)
GOOD MORNING PE (REDE GLOBO)
Our purpose is to transform lives and take care of people. Therefore, we take precautionary measures and create an action plan in the face of the situation (COVID-19).

• Travel of volunteer doctors to the backcountry to raise awareness and care of the families attended;
• Training of local leaders for prevention and care measures;
• Distribution of 800,000 kg of food to families served in poor villages;
• Water distribution in the cisterns of the villages served;
• Supply of our Medical Centers in the hinterland with medicines and extra health resources;
• Training of local nurses to care for families;
• Distribution of the Local Agent Kit with medicines, masks, alcohol gel, gloves and prevention booklet;
• Ambulances of friends of good for emergency care;
• On duty with volunteer doctors 24 hours a day;
• We interrupt the activities of our Educational Centers for children and young people in the hinterland;
• We interrupt the activities of our production units, in factories and workshops in the hinterland;
• Suspended the travel of great movement of volunteers to the hinterland, establishing strict criteria;
• We canceled the Food Collection in supermarkets, creating the online contribution of resources to the families served.